A day at Dev Bootcamp is far different than any school or educational institution you've experienced. Some describe it as organized chaos, others as having a summer camp feel. At Dev Bootcamp we like to think of the inclusive learning environment at each of our campuses as a simulation for what it's like to problem solve, learn, and build on the job as a developer in the most ideal of workplaces.
Bright + Early
Yes, we know we start each day quite a bit earlier than most professional programmers, but we've only got 9 weeks to fit everything in! Most students arrive before official hours start, to grab a cup of coffee, make a quick breakfast, and review the coursework from the day before. It's the calm before the storm, and it's the quietest you'll hear a Dev Bootcamp campus.
Then, around 9am at most campuses, instruction begins! Students in each phase of the program head to their lecture space for a morning lecture lasting 45-75 minutes (depending on the content and questions asked). For example, daily topics could include: Schema Design and SQL Queries, Object Oriented Javascript and using React in Rails apps.
Mid-Morning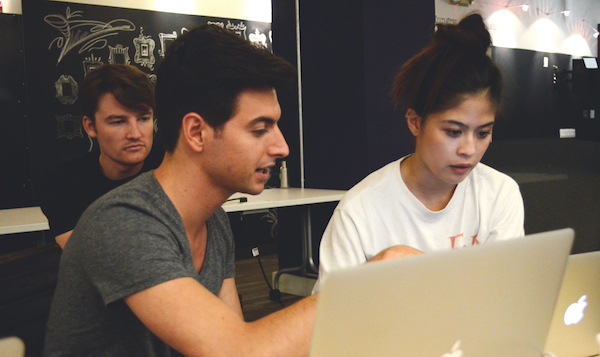 After the morning lecture, the coding begins. We believe that pair programming is the best way to problem solve and solidify what you've learned, while sharpening communication and collaboration skills. Students work in pairs roughly 80% of the time that they're programming at Dev Bootcamp, so now's the time when students settle in with their pair for the day and dive into their challenges.
Lunch!
The whole campus breaks for a full 90 minutes during the lunch hour. Stepping away from the computer and keyboard gives your brain a chance to relax and digest, and is imperative in staying healthy and productive during the program. Whether students exercise, socialize, catch up with family and friends, eat, or nap, we strongly encourage them to get away from their work stations during lunch.
Afternoon
After lunch, we have a five-minute, all-campus standup, sharing announcements, shoutouts, kudos, and even sometimes a cheesy joke. After standup, it's off to afternoon lecture. The topic of afternoon lecture can be something entirely new, a breakout session on something students would like to delve into more deeply, or even building an app as a group.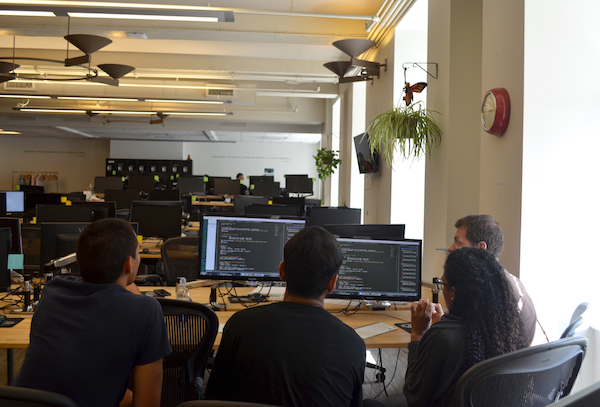 After the afternoon breakout, pairs head back to their computers and work through the curriculum. For example, one day at Dev Bootcamp NYC, the challenges for each of the phases are:
Phase 1 | Using SQL queries to get information about polling data
Phase 2 | Creating a clone of hacker news
Phase 3 | This is their last week of Phase 3 and students are working on building their final projects. One team is building an app that allows users to browse podcasts, favorite them and share them with their friends. Another team is building an app where you can capture experiences that you have at different locations around New York City and then create a walking tour for your friends to follow.
Once a week you will also meet with you cohort for an Engineering Empathy seminar. These seminars focus on the human side of software development and enable you to be more effective and productive team member here at Dev Bootcamp and in your job after!
Early Evening
As core hours come to a close, each phase circles up with their teachers for end of day standup. We go around the circle and share findings, ah-ha moments, challenges, kudos, and updates from the day.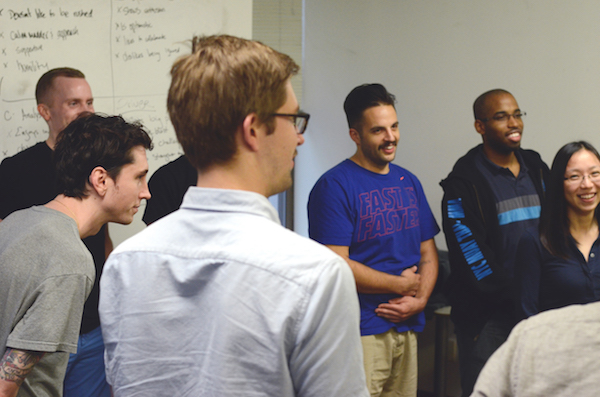 At the end of the day, it's the student's choice how they will spend their time. Some folks grab a bite to eat with classmates and play a board game before getting back into coding, others plug away in pairs or solo for a bit longer on the day's challenges, others head home to their families for a few hours offline before signing on later and coding some more. Once core hours are over, you get to decide how you will spend your time and continue your learning.
We host 1-2 evening events each week, so sometimes students will sit in on those, or they'll attend a workshop on algorithms and whiteboard interviewing hosted by our alumni mentors. Then it's home to catch some valuable zzz's — before starting all over again the next day.
Want an even closer view of a day in the life of a Dev Bootcamp student? Come in for a tour at the campus closest to you to see for yourself.