As part of Dev Bootcamp's commitment to diversity and bringing new voices that have been historically underrepresented into the tech industry, we partner with a range of community groups in each of our six cities. Recently, in Austin, some of our favorite community groups and local companies came together for an epic afternon of women helping women.
Our Women in Tech Afternoon back in May was such a success, we just had to host another one. The free event was cohosted by Dev Bootcamp and the local Austin chapter of Women Who Code and was focused on professional development, networking, and self-care. 75 Austin developers, technologists, soon-to-be-developers, and community organizers attended at the amazing Google Fiber offices.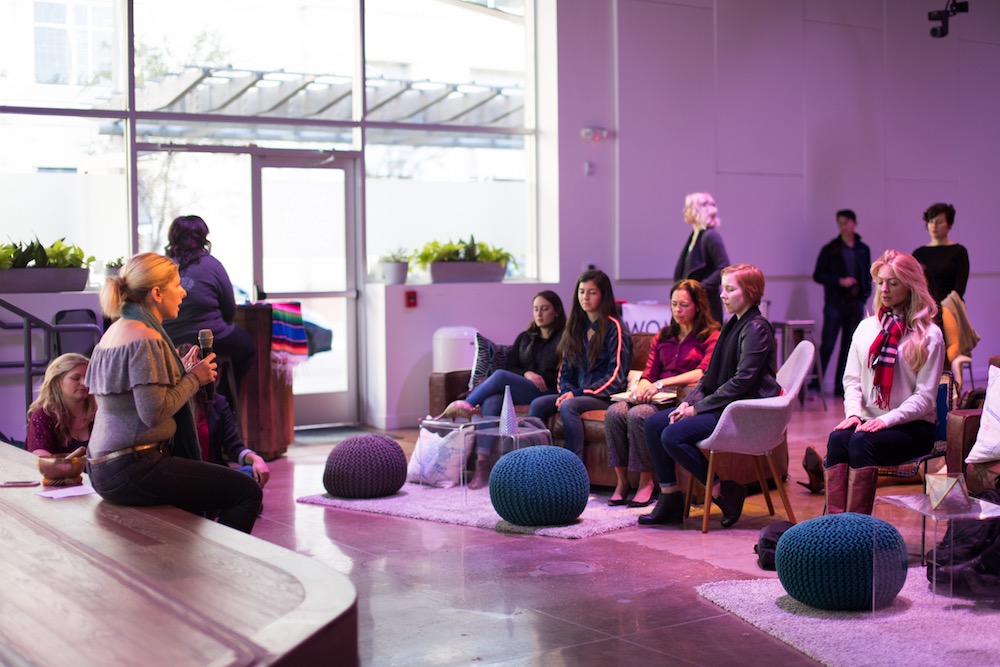 The afternoon opened with a 10 minute meditation led by local Austin wellness and meditation coach Randi Marks. At Dev Bootcamp we believe in bringing your whole self every day and being mindful is part of that. Some women said it was the first time they had ever intentionally meditated. One key takeaway from Randi's guided mediation was her quote "Self care is not a selfish act. We can't giveaway what we don't have." Randi went on to explain that often women feel they have to say yes to everyone and everything, which sometimes leaves them overextended at work and at home. The meditation was a great reminder tfo take time for yourself so you can recommit to what matters to you.
We also provided free professional headshots by photographer Savanni, also a member of Women Who Code, so participants could leave with newly-improved LinkedIn and social media profiles. There were also six Google recruiters that had 1:1s with guests, giving them technical interview practice and resume tips. We were also joined by Nichole from Atlassian and Karen, a local tech professional, who helped guests with Bootstrap and personal website design. Skill-building while networking helped everyone get the most out of the event.
We were also thrilled to host great partners. Skills Fund (a lending organization that selectively lends to students attending certain bootcamps, including Dev Bootcamp), Django Girls, Open Austin, and the non-profit Dress for Success all volunteered their time for the event to speak to guests about their organizations. We encouraged all attendees to bring optional donations for Dress for Succes and collected hundreds of donations for the organization. They even found new volunteers from our interested guests!
Did we mention local Austin favorites, Chameleon Cold Brew coffee and Blender's and Bowls were also at the event? Yum!
Interested in attending the next big Dev Bootcamp event in your city? Check out the event calendars for upcoming opportunities to meet and learn with our students, alumni, and community partners.