You might think of "tech companies" as the natural landing spot for Dev Bootcamp graduates, and while our grads certainly work at traditional tech companies like Google, Facebook, and Twitter, there are many creative industries that employ software developers that may surprise you. For example, some of our alumni work at the intersection of fashion and tech (Trunk Club), finance and tech (Venmo), healthcare and tech (ContextMedia), but what about food and tech?
Food and tech, you say? Yes! Technology is shaping the food industry too, from food delivery companies to meal preparation, from restaurant booking tools to social media engagement from the biggest food brands around.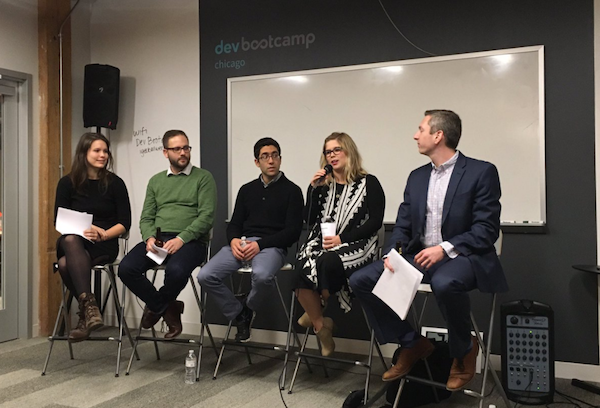 Last week in Chicago we hosted Edible Tech, a panel discussion from some of Chicago's food tech leaders including folks from HomeChef, Kitchfix, McDonald's, OpenTable, and Tovala. In celebration of Thanksgiving, one of our favorite holiday meals, we wanted to share a taste of some of the ideas about where food and tech connect that were discussed at the event.
David Rabie, the CEO of Tovala said, "Anytime I get an opportunity to talk about the food tech space with passionate folks, I jump at it." David has been passionate about food since he went on a health retreat before starting college. For the last two years, he's been working to bring clean, fresh meals to homes across the country. Tovala is the first company to create a smart oven and companion meal delivery service.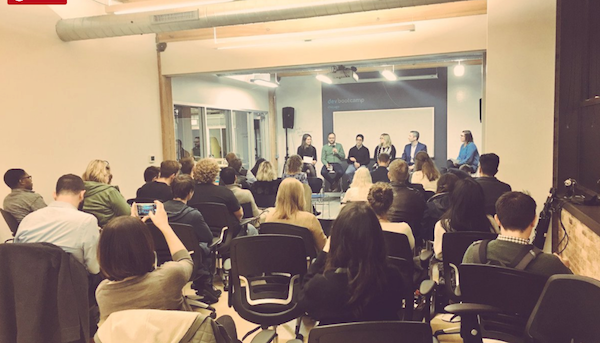 Attendees included local technologists, journalists, and even a few chefs! Blogger Jess described her favorite portion of the evening as the opportunity "to compare and contrast the way digital influences and is facilitated by start-ups and global corporations, alike. If it weren't for the event, I might never have learned about the local businesses represented there, particularly KitchFix, which, as a gluten and dairy-free eater, is really exciting to me!"
Eva Lindpaintner, the operations and web manager of Kitchfix, "Our companies face the same issues from very different angles, so hearing their experiences and approaches was very thought-provoking...Hopefully, the panel got attendees psyched about what the future of food x tech holds - I know I am!" Kitchfix is a meal delivery service that focuses on anti-inflammatory, locally sourced meals.
As for the snacks? Even the treats had a little tech flair!