by Jake Fishbain, student at Dev Bootcamp Chicago
Learning takes many forms at Dev Bootcamp, and we're pretty lucky. In our learning community, we have instructors with developer experience who are dedicated to helping us gain new skills, as well as accomplished tech community members who regularly join us at Dev Bootcamp to share their expertise. We join this community and it immediately sucks us in. Recently, Dev Bootcamp Chicago welcomed Greg Baugues, a Developer Evangelist at Twilio, for a "lunch and learn".
Greg had spoken at Dev Bootcamp previously and we asked him why he wanted to come back. He said,
"You've got this room full of former teachers, sales people, journalists - even pastors - who have put their lives on hold, given up careers, taken out loans, moved across the country and made this courageous leap to spend three months working 80 hours a week to learn an unfamiliar and intimidating skill in pursuit of the promise of changing the trajectory of their lives.
So if you're looking for a friendly audience with which to share a technical talk, if you're looking for folks to pour a few hours of mentorship into, it's hard to find a more attentive audience that's thirstier for knowledge than a room full of Dev Bootcamp students."
Twilio is a communications platform and Greg hosted a talk called How I Taught my Dog to Send me Selfies.
Greg started his talk saying, "Kaira texted me last night. That's right, she even sent a pic, a wide-eyed, tongue out, heavily panting masterpiece. She did so, mind you, for nothing more than a little treat." No, Kaira isn't sending snapchats overly filtered, but Kaira is still Greg's best friend: his dog.
The project began when Greg realized that with all the technologies we have, why in the world should he have to get up out of bed to turn on and off the lights? Greg didn't look at a smart bulb or outlet, because he had a perfectly good tool in mind: Kaira! As time passed, Greg trained Kaira to push a button on the floor turning his corner Ikea lamp on and off. Then Greg's wheels started turning and more light bulbs illuminated, if my dog can push a button and turn on a light, what else can she do?!
The answer to his looming question was, of course was to teach Kaira to take selfies! Using only the 'Getting Started' pages for Twilio, Arduino Yún, and Python, Greg devised a makeshift device to allow his dog to send him pictures throughout the day at the press of a button. You can see more about this project and how you can set this up yourself (and cute pictures of Kaira) on Mashable.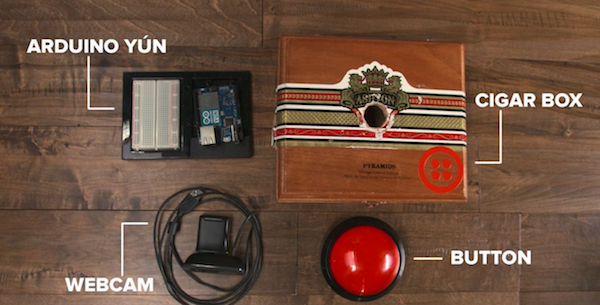 While I don't have a furry, fun loving pup of my own, Greg's presentation still provided me with the confidence and drive to go out and keep building! Opening a new browser window to those 'Getting Started' pages is the scariest part. Just do it, and keep pushing forward. I aim to utilize the Twilio technologies in my next app as I explore interpersonal communication in the workplace. Additionally, Greg has influenced me to explore other technologies to incorporate and share; all we have to do is click 'Get Started'.
As we coding bootcampers chugging along through the ups and downs of learning to code, talks like Greg's provide moments of inspiration about motivation. Greg's parting message was simple but clear. "Don't let your lack of knowledge or exposure to a technology, framework, or piece of hardware limit your creativity. Keep tinkering, for stepping out of our comfort zone is where true innovation happens."
Come learn with us. Check out our events calendar for upcoming talks.