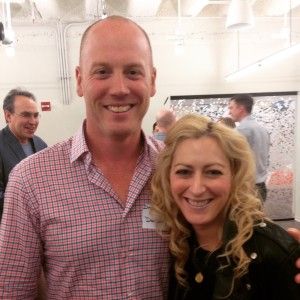 Last night in Chicago, our co-founder Dave Hoover mc'd an amazing event at Chicago's tech hub
1871
about tech and mental health. He introduced Jane McGonigal, the Chief Science Officer at
SuperBetter
, a tech company dedicated to helping people improve their lives and reduce symptoms of mental health disorders by playing games. Jane first became well-known for her
TED Talk
that's been viewed millions of times.
In Jane's talk, she shared the science behind the SuperBetter game, and explained how the skills in certain kinds of gaming--setting goals, going on quests, finding allies--create skills that people translate to real-world problems. The SuperBetter talk got us thinking about other apps and tech organizations that are tackling the big questions of wellness, self-care, and mental health. Check out a few examples we found:
Mindshift
is an
app that helps people manage anxiety
, perfectionism, worry, panic and more by teaching users relaxation exercises and strategies for managing stress.
Crisis Text Line
recognizes that especially for teenagers, texting might be the first line of defense for people struggling with depression, anxiety, bullying, and other challenging subjects. The
app relies on trained volunteers
to stay in contact with users at their lowest moments.
Head Space
makes meditation accessible to those new to meditation. It's a "
personal trainer for your mind
," and users choose among a variety of meditation sessions that fit their mood and lifestyle.

Joyable
uses a program based on cognitive behavioral therapy to offer users short exercises to help reduce social anxiety. The app also lets you set goals.
The research on the ability of apps to benefit mental health is still rolling in (though it looks good!), but apps like these, and SuperBetter, are trying to apply neuroscience and behavioral science and psychology best practices to the digital world.
At Dev Bootcamp, student final projects often take a philanthropic and mission-based approach. Once people realize how much magical power they have when they learn to code, they want to apply those new skills against real-world problems. Final projects have included
volunteer matching
,
mentorship apps
, and
Full Bellies
, and app reducing food waste and feeding people.