On February 23rd, we piloted a cohort in Columbus, Ohio. It was an experiment in a hybrid teaching style, with one teacher on-site in Columbus, and another teacher remote in Chicago. On April 24th, the cohort graduated, presenting their final projects to a dozen Columbus tech companies, and took the next step toward launching their careers as software developers.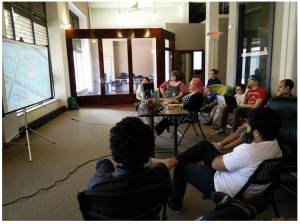 We are very proud of our Columbus alumni. They were an incredibly close-knit and adaptable cohort. Despite the experimental nature of their experience, they were able to learn as much as any other DBC student, as evidenced by the results of their assessments and the high quality of their final projects. We are eager to see where their job searches take them, and how their careers unfold as they continue learning in the years ahead.
While the students' results were as strong as any other cohort, the teachers' hybrid on-site/remote experience is not something we want to repeat. Dev Bootcamp teachers relish the light bulb moments and the relationships they form with their students. Our remote teachers really missed this, and our on-site teacher was too isolated. We've taken what we've learned and decided that we won't be entering new markets without a viable team on the ground. We're committed to providing a great learning experience for students, and a great teaching experience for our instructors.
In addition to our immersive 19-week programs in Chicago, New York, and San Francisco, we'll continue to experiment with other formats to reach new audiences and new future-developers.
Stay tuned!